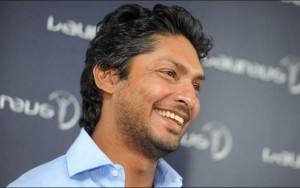 Host Broadcasters of the forthcoming Champions Trophy to be held in England this June, during which former Sri Lankan cricket captain Kumar Sangakkara will be making his commentary debut, have said that viewers will have access to English subtitles alongside Sanga's English commentary for those who are unable to grasp his accent.
The head of PR for the host broadcaster said, "While securing the services of Kumar to enhance our commentary team has been a major coup, we were presented with a unique challenge of figuring out how to include subtitles for the first time to accommodate him as well. A number of his fans told us that they are able to understand about 45% of what he currently says. We are hoping that by adding subtitles we can get it up to about 80%, because no software or person, including his parents, are able to comprehend 100% of what he is saying."
"We have also devised a number of signals that his co-commentators can use to highlight that they are unable to understand him. Producers will then have access to a lip reader who will decipher the Sri Lankan legend's sentiments and convey them to other pundits via their earpieces," he added.