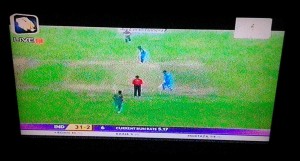 TNL, whose only coverage of anything related to cricket prior to yesterday was a broadcast of Richard Attenborough's special on insects, have said that the best way for fans of Sri Lanka Cricket to follow the team's performance at the Asia Cup is through the newspapers despite securing the rights to show the matches on its channel.
A number of reports from viewers suggested that last night's game was played under snowy conditions, although it was later revealed that the snow effect was added by TNL as part of its unique production of the tournament. "We said that if we secured the rights we would ensure a special viewing experience and we delivered a first for Sri Lanka by adding the 'snow' filter to our output. Of course, most people won't like and you may not be able to see the matches so for comprehensive coverage better to read the newspapers." said Mr Wickremalion brother of MP Wickremalion.
One fan said. "I will be following the matches on radio and imagining the game in my mind. Much better that trying to actually watch the game on TNL. The coverage is as clear as mud with a snow filter applied to it."
TNL has said it will also be bidding for the rights to the Winter Olympics after showcasing its special filter to the organising committee and trying to convince them that the viewing experience will be uniquely wintery for its viewers.