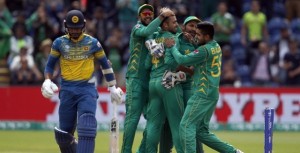 Indian bookmakers are reportedly up in arms against the Pakistani cricket team and planning a boycott of fixing the final if the team does not deliver on its promises. Bookies had promised the Pakistan team handsome rewards for losing the semi final against Sri Lanka as the odds favored a Pakistan win after Sri Lanka were out for a low score.
Pakistan captain Sarfraz had vehemently objected to the bookies allegations saying they tried their best to lose the match but Sri Lanka were just too shit.
Sarfraz was overheard on the phone with one bookmaker saying "What to do Azharuddin bhai, we tried to lose the match from a good position but the Lankans wouldn't even take the easy catches we were giving them. What all can we do then bhai. Please understand our situation."
Pakistan's efforts were also derailed by fast bowler Mohamed Aamir who after his 5 year ban has refused to continue fixing matches. "I'm a team man, I just bowled it normally outside off stump but both the set batsman got inside edges. What can I do?" Aamir had told the dressing room.
Indian bookies are said to be in talks with SLC high ups in order to have Thisara Perera dropped from the team in order that other teams can lose matches against Sri Lanka successfully.