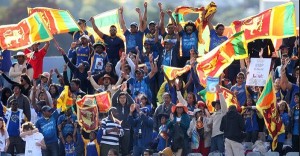 The Sports Minister today announced that he was considering the proposal to make 'Supporting Any Team That Play's Against India' as the country's national sport, replacing Volleyball.
Speaking after yesterday's ICC Champions Trophy final, the Minister said, "I heard that some Sri Lankans were practicing their jeering skills since last morning, hours ahead of the final. Some people said that they heard their neighbors cheer whenever India lost a wicket much louder than when the Sri Lankan team scored a six. Considering the enthusiasm shown by the Lankans to support India's opponents I think we have to consider making this our national sport."
"What have we achieved in Volley Ball? We don't even have the beach version of sport despite having such a nice costal line. And we aren't a very tall nation either. We have a very vociferous group of anti-Indian supporters and we are naturally good at belittling our neighbors so better we put our resources towards that," he added.