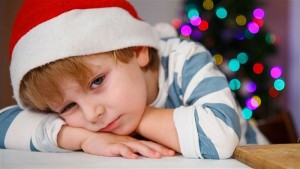 The parents of four children, with the oldest aged 23 and the youngest aged 5, have said that their kids should blame the 'Every Child Is Equal' Movement, for the fact that they all received a tambourine for Christmas.
The father of the children said, "We were going to get them age appropriate gifts, considering we can no longer even think about purchasing Barbie dolls for our daughters due to the PC police hovering around. I was going to get our eldest who is twenty-three a pair of basketball shoes and the youngest who is five a remote controlled racing car. But I was then confronted on Social Media with the message that all children are equal."
"Fearing that someone would post a story about how each of our children got different gifts and shame us on Facebook, we decided to get them all the same present. The seven-year-old wanted a tambourine and that was the cheapest, so we decided to give them all one. Naturally, the others were disappointed and the oldest has walked out of the house, which may not be such a bad thing. But the main upshot is that we will not be shamed on Social Media," he added.
"It's terrible out there on the Internet – Our neighbour bought his dog a chewy toy and the cat a scratching post and someone from across the road had a massive rant and questioned why the scratching post could not have been bought for the dog as well."