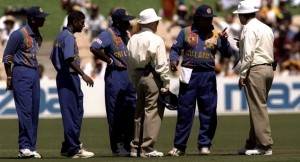 Minister of Boats Arjuna Ranatunga is set to consult former cricket umpire Ross Emerson on how to deal with the Hambanthota port staff walkout, with the latter having dealt with a walkout orchestrated by the former in 1999.
Speaking at a press conference the former national cricket captain said, "While I've instigated a walkout, I've not actually had to deal with one so I had to figure out if there was anyone I knew who had successfully managed one. I then remembered that in '99, that umpire Emerson dealt with my petulance when I briefly asked the team to leave the field while the issue of no balling Murali was raised. It was only when the threat of awarding England victory was made clear to me did I tell the team to return to the field and continue the game."
"I have now spoken to Mr Emerson and I he has advised me to use the same tactic and so I have told the port staff who are striking that unless they return to work, England will be awarded victory and that they will face a fine from the ICC," he added.
MP Ranatunga has said that umpire Darrell Hair has also been consulted on how to interpret the rules to your favour.