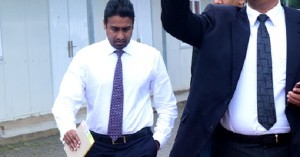 The man who volunteers plays 'banker' every time the UNP hierarchy meet to play Monopoly, Arjun Aloysius, was today spotted inside Majestic City making several purchases, having had his request to travel abroad rejected by the court.
One shopkeeper said, "We recognised Mr Aloysius after seeing his face several times in the media over the last few weeks. He came in to purchase a some Treasury Bonds, but unfortunately we only stock fake Nike t shirts with the iconic swoosh pointed in the wrong direction. He tried to plead with us saying that he would pay over the asking price as he knew the head of purchasing at the EPF to whom he could unload them."
The manager at one of the food establishments at the food court told us that Mr Aloysius wanted just one day without having a pickle and ordered an Elephant In The Room hotdog with their signature sauce but not dated, just like the letter Ravi issued to his uncle. He then proceed upstairs to hang out at MC just like the good old days when you could have got away with hoodwinking the public.