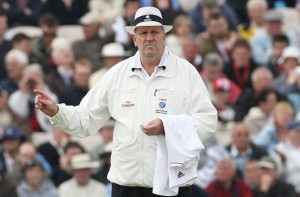 After posting a score lower than the total number of seats expected to be won by the UPFA, the Australian team have resorted to the extreme measure of recalling umpire Darrel Hair out of retirement to officiate the remaining 4 days of the 4th Ashes Test.
Hair, who has played a significant role in the development of Australian Cricket in the past, is expected to come in as the opening umpire and has a knack for spotting off the ball infringements during the game. In a media interview given just after the announcement was made, Hair told reporters "I am very happy to have been given another chance to have a go at the Poms. I have already noted suspect actions including the way Stuart Broad adjusts his hair, Bairstow's name – which is very difficult to pronounce and of course Moin Ali's unkempt beard. I expect to call several no balls, hopefully more than the Aussies's first innings score, if these infringements continue"
Meanwhile U2's the Edge, was mistakenly led to believe that the Australian's were playing a tribute innings to their favourite guitarist.
Highlights of the Australian innings are being replayed today and expected to be longer than the actual innings itself.