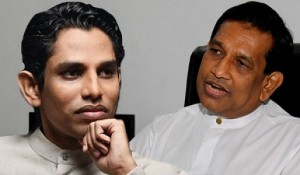 Cabinet Minister Rajitha Senaratne today announced that he is considering raising funds for the Government by putting up his son, Chathura Senaratne, up for adoption if the latter makes any further outbursts.
Speaking at a cabinet press briefing the Mr Rajitha said, "The thing is, I accept some of the responsibility for my son's comments as it is partially genetic. Most of you have heard my press conference where I talk a lot of cock in order to defend the government and protect my job. But Chathura's nonsense is far more idiotic in nature. He is an embarrassment to our family who are already embarrassed to have me in it."
"I initially threatened to take some of his teeth out in my surgery, but he said he will get dentures to keep talking bullshit. So the only other course of action left it to put him up for adoption together with other State Own Enterprises. But the initial indications are not looking good, with more people willing to pay for me to keep him rather than offload the boy," he added.
Meanwhile, the Trump administration are keeping a tab on the situation with the possibility of recruiting him to replace press secretary Sean Spicer.