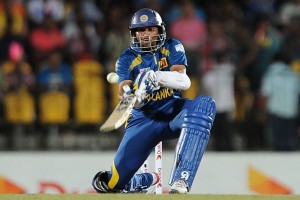 Despite being keen on playing for Sri Lanka as long as Sanath Jayasuria, Tillakaratne Dilshan announced that he will end his international ODI career post the current Australia series after agreeing to a royalty fee with all the other cricketers which will see him continue to earn a revenue from his trademark 'Dilscoop'shot.
Speaking at a press conference this afternoon, the opener said, "What I created with the 'Dilscooop' is akin to Edison inventing the electric bulb – you should see how fan's eyes light up when I score with that shot. It's only fair that I get a fair compensation from future use of that stroke for a reasonable period after retiring and I think 2 million years is a realistic timeframe. After that period I am willing to waive my rights."
"I need to ensure an income after I retire – my jeans line isn't selling well and I have only received two individual payments from my other royalty scheme of my trademarked beard when a couple of drunk dudes thought it would be cool to have their facial hair trimmed like mine. Even those cheques I received are in jeopardy as both guys are asking for a refund saying they were inebriated when they asked for it and having realised how hideous they looked next morning, decided to shave it off completely," he added.
"I am also trying my hand at a few other things including commentary but I can't say much now. About those discussions."