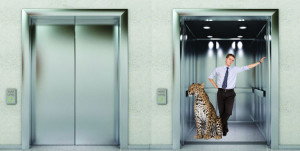 A number of leopards based in Yala and Wilpattu have registered for the 'Elevator training for wildlife' programme in preparation of their migration to apartments in Colombo, following the recent encroachment on to their sanctuaries by humans.
One leopard said "Despite the exorbitant costs, we have been forced to consider taking up residence in apartments in Colombo as a result of MPs like Richass Badudeen. Not just leopards but all the other wildlife were just chilling in our habitat when we received eviction notices. With all the space available to the humans, they want to encroach on our land. So we've been left with no option but to move to Colombo. The monkeys like Altair because they can climb up with ease as a result of the slanting architecture of the building. However, no one wants to stay at Achellion because we can't pronounce it."
"People have been wondering who has been buying up these apartments considering the high price and most of them sold out. On behalf of the animals in wildlife parks I must confess it is us, and the only reason we've kept it a secret because we don't want people in Colombo knocking on our doors just to see leopards," she added.
Meanwhile, MP Badudeen said, "We have offered these animals the opportunity to migrate to Pakistan if they wish, which we expect them to take up"