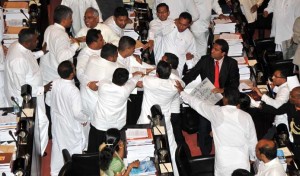 Despite job automation threatening to cause chaos in the labour market, a group of Sri Lankan Ministers of Parliament have said that their jobs are safe in the knowledge that stupidity cannot be automated.
Bandula Gunawardena said, "Sri Lankans were the first to coin the term artificial intelligence after they realised that the people they elected to run the country lacked real intelligence. I am glad to have been cited as a case study of this. Recently there has been a lot of talk about job automation. While certain sectors of the civil service will be automated we are confident it will be limited to skilled areas which involve a lot of processing power and use of high-level thinking."
"As that is something that Sri Lankan MPs lack, we are confident that we will not be replaced by robots. They are incapable of continuous bungling, not learning from their mistakes, wilful deceit and pointing fingers at the previous government. Without these they won't be able to be successful public servants," he added.