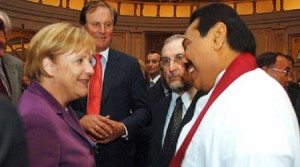 Mahinda Rajapakse has finally taken the hint and decided to retire from Sri Lankan politics, but will still be plying his trade in Germany having heard about Chancellor Merkel winning a fourth term in office.
Speaking from Carlton House, Mr Rajapakse said, "This country does not appreciate the long-term value and people are very impatient. If the people gave me one more term I would have definitely bankrupted the country by building up crippling long-term debt. But no, they wanted a short-term fix and democracy and look what happened – there is a greater degree of accountability and less anxiety. But as a result, people are poorer – specifically my family."
"After watching the recent election in Germany, I have decided to apply for citizenship of Deutschland. Did you know that Angela Merkel won a fourth term as Chancellor? She and her family must be so rich after being in power so long. And many of her relatives must certainly be in positions of power. This is definitely my mug of beer and I've already submitted my paperwork," he added.
"The only issue I foresee is that I have been told that I must not mention the war, but that's one of my favourite things…."