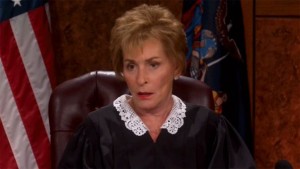 President Maithirpala Sirisena said that although the country has agreed to adopt Resolution 30/1 which it co-sponsored at UNHRC session last September, it would not allow foreign judges to be involved in local judicial proceedings and specifically prohibit the participation of Judge Judy as she fits the criteria of being foreign.
Speaking at media briefing, the President said, "Some people think that just because we made a commitment that we have to keep that commitment. But it's just like some people who don't keep their marital commitments – some couples commit to spending less time drinking after getting married and spend time with each other but only to end up drinking much more after the first week of wedded bliss. Only thing is that the whole country is now drinking to avoid facing their problems."
"One commitment we made was the inclusion of foreign judges to monitor human rights in the country report of some things that happened in the past. I was especially disturbed to hear that Judge Judy will be involved. Of all the judges her involvement will be especially detrimental. The way she promotes reconciliation and harmony and also simplifies arguments in a friendly manner is definitely what this country does not need. Our judicial system operates on a different timeline – we are still trying to close cases from the 1970s despite the clear evidence." he added.
Judge Dredd said that he has also been excluded from proceedings in Sri Lanka.