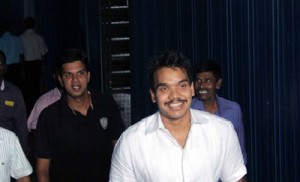 The eldest son of the former Premier, Mr. Namal, was today seen sporting a moustache in an attempt to disguise himself for his meeting with the FCID.  
Emerging after just 3 minutes of questioning  Rajapakse Junior the Ist said the ploy was a success and authorities could not recognise him, asking him to leave after 3 minutes.
Speaking to the press afterwards he said 'They asked for my name and I said Colin Farell, but I've put on a little since my acting career went downhill and my consumption of double cheeseburgers had gone uphill. They then further inquired about this predicament and stated "Weight?" and when I replied "Well I've waited about a minute already" we all started laughing and the inquiry was terminated immediately, unlike the gradual decline of Farell's acting career in to obscurity.'
Colin Farrell is wanted by the CID for possible involvement with regards to an incident in Angunukolapelassa. We contacted his agent who said Mr Farell fainted trying to pronounce the name of the village.