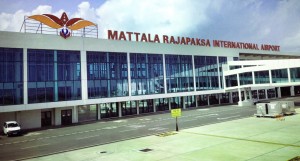 The Aviation Ministry of Sri Lanka today issued a statement saying that no flights had been affected as a result of the large-scale protest held at Mattala Airport last evening held by those who charge the government a lot of money to provide paddy storage facilities.
The protest which saw one hundred people participate, making it the largest gathering of people at the Airport since the opening ceremony, was initiated by Society Against the Productive Use of Underutilised Public Assets. A spokesperson said "It is shocking to see that the Government use this airport as a storage facility. They are short-sighted and we expect them to have to reverse their decision in twenty years when the number of flights to this airport doubles to four per week and airlines need the space to park the planes."
The Ministry said they had spoken to the protestors and gave them permission to keep protesting for another week when the next scheduled flight will arrive, which is expected to be the intercity Katunayake to Mattala return Mihin Airlines sector.   "We understand that they have a right to raise their concerns so having looked at the flight schedule gave them another week to largely go unnoticed by the public as a result of this protest" a Ministry spokesperson said.
As a result of the lack of flights, the airport is ranked in the top 10 for space for passengers and speed of check in processing, and has also been commended for the providing the most stress free flight schedule for air traffic controllers.