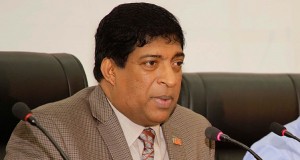 Jackpot winner Ravi Karunanayake has been given permission to purchase lottery tickets for all future draws after the numbers have been drawn.
The Foreign Minister, whose purview under which the lotteries board was placed said, "This is the kind of innovation this country has been lacking for over a decade. I was one of the first ministers to introduce the concept hydrogen cars and now I will be launching a new lottery where anyone named Ravi Karunanayake can purchase tickets after the draw has taken place. It is  in order to drive this kind of forward thinking that I demanded the lotteries board came under me."
"There is a chance that even after the numbers are announced that I will end up selecting a ticket with the incorrect numbers, but then the draw numbers selected will be changed to reflect the new ticket. Basically, whatever happens, I am going to win," he added.
It was announced that the letters in all future all lottery draws will be R & K in honour of the change of ministries.