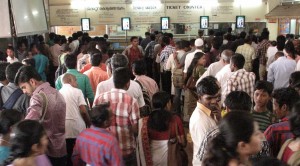 Sri Lanka's Olympic Committee has said that they are confident that the country would secure its first gold at the next Olympiad after their efforts to include Queue Jumping as a sport have gained traction within the IOC who are considering its inclusion.
A spokesman for the local committee said, "There were several sports ahead of us in the queue for consideration of being included at the next Games, but we managed to jump ahead and shoved the application form in their face and made our case for queue jumping.  This country produces some of the best queue jumpers in the world with very little coaching so imagine if we trained a few of them how annoying and rude they will be?"
"Although Volleyball is our national sport, we need to play to our strengths. Queue jumping is much more popular, so much so that people everywhere practice it even when just waiting in line at the supermarket when there is just one person ahead of them," he added.
"Those who take the sport seriously practice it in hospitals where someone who has a migraine tries to jump ahead of someone who is having a heart attack."
The IOC said, "Their dedication and talent towards this sports is fascinating and infuriating to watch. We will consider inclusion but fear that due to the manners and discipline instilled into children in the west, they will be at a disadvantage. Nonetheless, if included, Sri Lanka stand a very good chance of claiming their first gold."