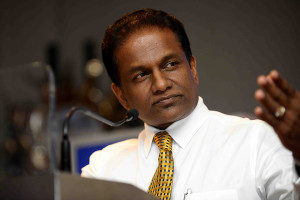 Thilanga Sumathipala said that a new payment structure for SLC will be unveiled which will see cricketers move to a more performance related structure and the administrators and management aligned to non-performance remuneration.
An 'achcharu-fied' statement issued by the communications specialist stated, "This has been a very good year on the pitch and a historic test victory against Australia. Since the team have performed well we believe that the boys will be further encouraged to continue delivering if we ensure that they are incentivised by results. However, off the pitch the story is quite the opposite. Having analysed how badly things are within the administrative structure, including the company paid and bloated staff plus 'wives and girlfriends' trip to England, and the farcical outbursts with regards to Murali, they are clearly incentivised by non-performance."
"As such, we the administrator's bonus payments will be aligned to non-performance going forward. Or going backwards. For every week of inaction they will receive a 100% bonus and every unnecessary meeting they convene they will be rewarded with a $1000 payment, which will also enlarge the already inflated egos," the statement added.
The board are also expecting to match the appointment of a high-performance coach for the playing setup with low-performance consultant to advise them on the new scheme.