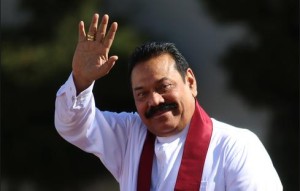 Rumours about a breakaway party led by Mahinda Rajapakse were questioned this morning after the former President said he will continue to be 'Under Hand' after the SLFP said they will contest under the hand symbol.
Speaking at yet another rally, "I have been under hand my entire political career; some members of my family are more under hand than me and this is something we intend on continuing. But some of the family have been asked to put their hands up.  This is all I am going to say about my future political career at the moment, although I will continue to attend rallies and make speeches about how sour my handful of grapes are. Now please stand up and give me a hand."
A spokesperson for the SLFP said, "We are not sure how to handle this comment, but we are not going to poke our fingers into this situation. Once we have further information we will decide if this is something that the committee needs to deal with or if we can palm it off to someone else."
Anniversary celebrations for both parties which will end up being a mud sling match and bring people together in order to divide them will take place this month.