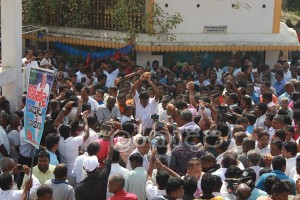 The Joint Opposition have put their spare time to good use and secured a gold medal for Sri Lanka in the Coconut Dash after literally breaking a record 10,000 coconuts at the South Asian Games last evening.
The event, which was held for the first time this year, was keenly contested by all participating countries and the Lankan contingent of Parliamentarians, who flew business class together with all members of their families, were not considered likely winners. However, they benefitted from the organisers decision to change the manner in which the game got under way. Instead of the traditional starting gun or whistle, each team were shown a picture of Yoshitha Rajapakse behind bars.
This was a key motivating factor that pushed the Joint Opposition team past their previous pain barriers setting not just a personal best, but also smashing the Asian record resulting in several wasted gallons of coconut water. The captain of the SL team, MP Dinesh Gunawardena, said "We were completely focused on winning this event, not just for us, but for our former teammate Yoshitha. My efforts also literally left me out of pocket. But accusations that we stole the win from a state plantation are unfounded."
Sri Lanka are also tipped to win several other events including the slow crawl towards good governance, the long shot of getting a proper budget in place and  wrestling with racism.