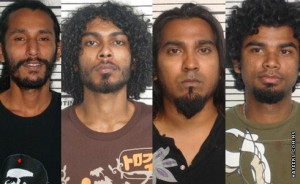 The Sri Lankan Association of Mobsters have issued a memorandum to all its members requesting them to consider rebranding themselves as after a recent spate of police arrests has seen their numbers begin to dwindle. The memo, which was leaked to the press by 'Andaya', said the increase in arrests had been linked to an new strategy within the police intelligence unit which began tracking down culprits based on the clues contained in the gangster's names.
The head of the mob's association said all names that give away any descriptors of themselves or their location should be changed immediately in order to evade capture. However some members have voiced their opposition to changing their names, which they say have taken years to build up and form a key part of their identity. Instead they are looking at other ways to thwart the authorities attempts to track them down.
Rawula said he will stick with his name but will take a shave, Matara Saman indicated that he can flummox the police by moving his operations in to Chilaw and Badulla Bada has signalled that he'll begin the Atkins Diet.
In a related story, the police have failed in uncovering a major criminal gang operating right under their noses.