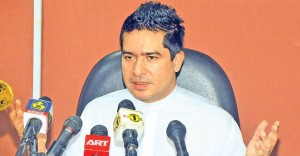 Bananaman Sujeewa Senasinghe has clarified that the numerous calls made to Arjun Aloysius during the COPE Committee investigations were in reference to his forthcoming book 'How to get rich and can you help me.
Speaking at a press conference, Mr Senasinghe said, "I have done nothing wrong and I have done nothing right. Basically, since coming to power I have done nothing. So I don't know how people can accuse me of engaging in any dubious activity. I was appointed to the COPE committee by Arjun Aloysius so he could find out what was going on. I told him that I would help him only if he gave me tips on how to get rich quick."
"The best advise Mr Aloysius gave me was to get a father in law who ends up as the Governor of the Central Bank. Another tip he gave me is not to get caught. But he spoke only one word at a time which is why there were 60 calls made between us," he added.