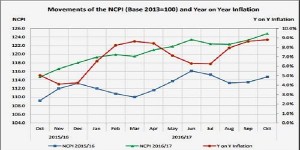 The Central Bank today confirmed that your hard earned money will be worth less than it was by the time you finish reading this article due to the skyrocketing inflation, while wages remain stagnant.
One Economist said, "The average cost of the Market Basket has increased so much that we are looking to get the basket made out of cheaper material and even possibly outsourcing it to China. We ask the public to get their Christmas shopping done early because by the time mid-December comes around your November pay will have vanished due to the party season and your drinking problem."
"As a result of rapid inflation, several trade unions have demanded that we pay workers in land instead of money. This system is currently only reserved for MPs so they can secure prime property within high demand areas of the country. We advise people to enjoy life and inflate their waistlines," he added.