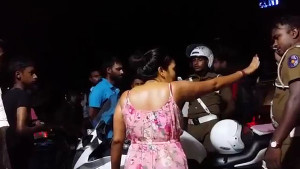 A woman who threatened a Police Officer last evening in a video that went viral (see below), was today said to have been recruited by the MR to give his rebuttal to Maithri's address to the nation.
The woman, who launched in to a major tirade after the Police stopped her for a suspected offence, had impressed the former president by her ability to keep saying 'I'm not scared of you' and 'I know your tricks', phrases that Mahinda had intended on using in his planned address.
Confirming her position for the role, the former President said 'Sadly people don't seem to be scared of me anymore despite my record of creating fear with my gravelly voice and manipulation of the media. But it's obvious that this woman would scare even the Grease Yaka with her raised arm and shouty tone. It doesn't matter what she says, as long she says it the same way, Maithri will be quaking in his boots".
The Husband of the woman thought he could hand over responsibility of her to the police and live in peace, but no such luck – even the forces could not deal with her and paid the bail themselves to release her from their custody.
We managed to contact the lady on the phone to ask her why she stole the policeman's helmet to which she replied 'After the verbal beating that Maithri was dishing out I wanted to take something to protect Mahinda although I don't think it was enough'