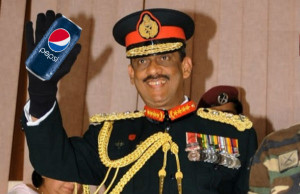 Field Marshal Sarath Fonseka this morning unveiled his secret weapon that he intends to use as part of his campaign to control public unrest, following his appointment by the President that saw him have the current laugh against the Rajapakses.
In a media briefing held earlier today, Mr Fonseka said, "Although I was not actively involved in the military for several years, I continued to monitor the latest developments and technological advances for my person growth. I recently came across a video showcasing the latest weapon deployed by celebrities to generate an obscene amount of money to stop mass protests while making people obese. Since accepting this role, I have now ordered several thousand cans of the black unhealthy sludge."
"I will be offering these drinks to all Trade Union organisers and protestors who aim cause chaos on the roads of Colombo. One sip of this drink and they will cease their disruptive activities and head to a medical centre to check their blood sugar levels, which will be dangerously high. They will then need to think twice before organising any demonstrations in the future," he added.