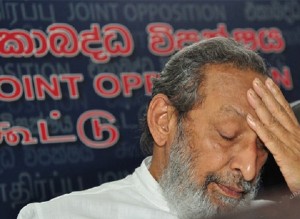 Following news that Geetha Kumarasinghe, the first of hopefully many unqualified and unsuitable people, was disqualified from Parliament for holding dual citizenship, fellow MP Vasudeva Nanayakkara is said to be concerned that his citizenship of Middle Earth will result in him also being barred from holding any political positions in Sri Lanka.
Speaking at a press conference, the serial party jumper said, "I once went to New Zealand on holiday with my family and visited Middle Earth while I was there. During that time they were filming the Lord Of The Rings trilogy and they wanted someone to speak vile and foul words almost incomprehensibly. After I submitted my audition tape, which contained a number of my outbursts at Parliament, they cast me for the role."
"On returning home to Sri Lanka, I received a letter from Middle Earth offering me honorary citizenship, which only required me to tell them about one ring to rule them all. So I called Mahinda and he picked up immediately. They were impressed and I accepted the citizenship. Now I am being told that dual citizens cannot hold political positions in Parliament. If they bar me, then they also need to look into Wimal as he holds citizenship of The Death Star," he added.