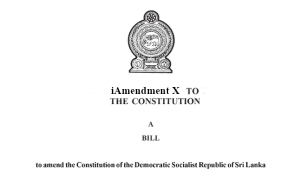 The Government of Sri Lanka today announced plans to undertake some major changes to the 20th amendment of the constitution, primary of which is to change the name to iAmendment X, in a bid to get it passed in parliament after a failed attempt earlier this week.
A spokesperson for the Government said, "At least there is consistency in our work – we have failed to deliver on a number of fronts and the new constitution is another in a long list of broken promises. But we are keen to make a change and have analyzed the feedback received on the 20th Amendment. Key among these was that people were not keen on the content and said there was not enough change. Having looked externally for inspiration, we realised that even the new iPhone X is very similar to the old with a new name, so we decided to adopt that approach."
"The iAemndment X will come with a range of new features including allowing new bills to be drafted just using emojis, a face recognition feature which lets people know who have you pledged your allegiance to irrespective of which party you are in. We successfully tested the latter feature on former Justice Minister Widjedasa Rajapakse who was revealed to be a Mahinda man," the spokesperson added.