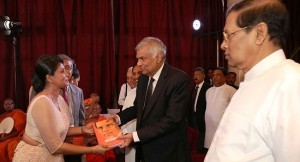 Chathurika Sirisena, the unfortunate sister of Dhaham Sirisena, said that she invited both Ranil Wickremesinghe and her father Maithiripala Sirisena to the launch of her book 'Janadhipathi Thaththa' to ensure that both personnel referred to in the title of the publication, were present at the event.
In a speech made during the launch, Ms. Sirisena said, "Writing a story about my father as President was my intention, but then I realised who is actually running the country so I had to develop two separate character arcs. But this way, Mr Wickremesinghe does not have to write an autobiography as I have saved him the effort by writing about the President of Sri Lanka."
"The hardest part of writing the book was actually coming up with a title. I didn't want to go with something obvious. After several brainstorming sessions, we came up with the name 'Janadhipathi Thaththa', which is quite ambiguous when you think about it. Could we be referring to the President's father? or a Pizza topping", she added.
"I am working on a number of sequels to this including 'Amma, Jaanthipathge Birinda', 'Malli, Janadhipathige Putha' and 'Mung, Janadhipathige Duwa".