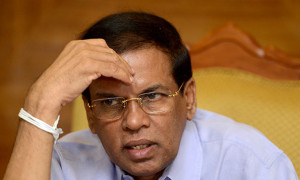 Soon to be former President of Sri Lanka, Maithripala Sirisena today said that he will go one step beyond his election pledge of abolishing the Executive Presidency and also abolish the entire government, considering the current track record.
In a press conference this morning, Mr Sirisena said, "It's closing upon three years since I came into power and people are getting frustrated that I was not keeping my word of getting rid of the Executive Presidency. I will admit that I did harbour thoughts of keeping it going, but at the end of the day, my incompetence won over and if not through the constitution then at least through the vote I will have kept my word of not being the executive president after one term."
"However, this s a team effort and there is an 'I' in idiots, so I have decided to abolish the entire government. To this end, we have taken a number of steps from continuing to protect corrupt ministers and businessmen to disrupting several key industries including power and fuel and a lot of inaction. This is a sure-fire strategy that will guarantee my early retirement, which is something everyone aspires to," he added.