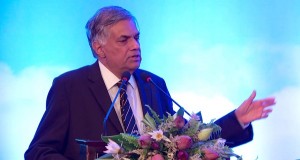 Prime Minister Ranil Wickramasinghe added Photoshop skills to the list of Yahapaalanaya achievements this afternoon following a mass outbreak of petrol related memes on social media.
Speaking at an IT conference, Mr Wickramasinghe said, "While it was not an election pledge, the fact remains that everyone and their aachchi are now able to use a pirated version of Photoshop, or at worst, Microsoft Paint to create memes. This is a vital skill for the future economy when all our jobs will be done by a robot or the Chinese. Or a Chinese robot. But it is only because we created the desperate conditions for people to live in that this skill has emerged."
"While the subject matter of the memes varies, a recent study concluded that 97% of them were created to mock the current Government and this is something we must take credit for by way of our incompetence. Of the 97%, 95% are memes about me. No other Prime Minister is able to claim to have facilitated so much unproductivity during their tenure," he added.