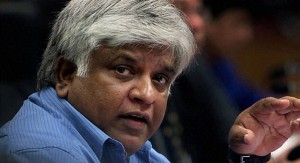 The least dodgy of the Ranatunga brothers and former captain of Sri Lanka has expressed concern that his World Cup winning side will have their achievement removed from the record books if the current team continue underperforming.
Speaking at a press conference, the Minister of [] said, "I only thought that we won't win the 2019 World Cup at the current rate we are going, but I believe that our past is also in jeopardy. At least for the next World Cup, we have time to recruit Dinesh Chandimal's Witchcraft lady on a full-time basis, but I am very doubtful I will be able to hold on to the one that we won based on ODI form."
"The current predicament of the team is purely because there is no one named Ranatunga in the national cricket setup. If we can get me or one of my brothers involved we can improve certain metrics including corruption and animosity between the team and administration. But unfortunately, statistics are never shown on TV," he added.