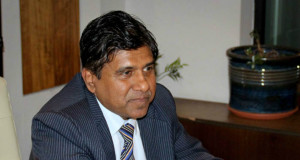 The public have been asked to be vigilant and contact the police should they see anyone that looks like Wijedasa Rajapakse as it may actually be Gnanasara Thero in disguise.
A spokesman for the authorities said, "Despite our efforts to try and downplay an extremely serious crime, the public are being very difficult and want to us located Gnanasara. We believe he is wearing a sophisticated disguise and he may be dressed up as the Minister of Budasasana. He may have so deep into character that the racist priest may have even taken up residency at the Minister's house."
"We trying out level worst to discover the whereabouts of the Thero and so far we have been very successful in this task. It'll only be a matter of time before we don't find him," he added.