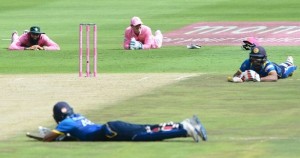 The national cricket team have been told that the most pressing issue they are facing is the over consumption of honey and that they need to focus on reducing consumption rather than trying to improve their cricket skills.
Head of Selectors Sanath Jayasuriya said, "The batting, bowling and fielding in this series came unstuck after we realised that the team had been drinking too much honey. This became apparent in the last ODI, when bees swarmed the pitch. However, the player's display of reflexes to avoid being stung is the best they displayed during the entire tour.  We are trying hoping to recruit wasps and hornets into the player's training regime from next week."
"We are also going to make some significant changes to the team selection and as some of the first team boys are not performing, we are going to have to recruit some youngsters from the B team to deal with the issues faced in the ODI," he added.
Meanwhile, Dinesh Chandimal has been told that either his performances need to improve or his pollen count needs to be lowered in order to continue to represent the team.