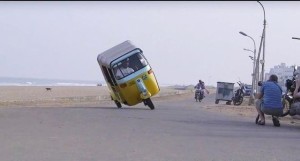 In a rare victory for the common man, a three wheel driver secured won a case brought against him despite appearing without a lawyer after his legal counsel fell out of the vehicle during a risky manoeuvre performed by the driver on the way to court.
The driver said, "We were running late to get to court so I had to step on it. In addition to the normal flouting of road rules like overtaking over solid white lines, weaving across lanes without looking and not using indicators, this time I decided to speed and made a u-turn while going very fast. On arriving at court I looked around and realised that my lawyer had fallen out. I didn't know if this was a good thing because I wouldn't have to pay him or a bad thing in case he sued me."
"But anyway I had to appear for the case and decided to represent myself. I managed to convince the judge that a miscarriage of justice had taken place and the reason I knocked someone was over is because they had left their house. If that person stayed indoors there would have been less chance of a collision," he added.
The judge ruled in favour of the three wheel driver and requested he prevent other lawyers from also entering the court premises.