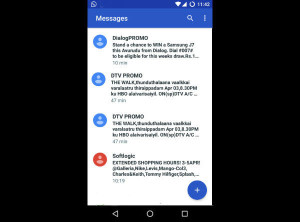 The company that sends you more annoying texts than your mother, Dialog, today announced that they have broken ground in Madampitiya on a new dedicated spam message factory aimed at increasing gross national products, because it is really gross.
A spokesperson for Dialog said, "We were going to announce this at a press conference, but we thought it would be better to send our subscribers the news as ten messages that they did not subscribe to. We have offered anyone who does not want to receive our text messages the chance to unsubscribe by throwing their phone in the water. But we are developing a new type of text message that will be delivered to under water so our customers don't miss out."
"We are currently hiring spam manufacturers for the factory so if you know people who like to butt into conversations, say things that are totally irrelevant to you or don't know when to stop chatting, please encourage them to get in touch. So far we have received applications from Bandula Gunawardena and Chathura Senaratna," according to another text message that they sent.
"We are very happy that we have managed to lobby the government to prevent them taking constructive action against us for our outrageous behaviour and abuse of customer information for commercial gain without proper consent options."
GET ONE OF OUR T SHIRTS FOR AVURUDU! – http://takas.lk/catalogsearch/result/?cat=&q=newscurry