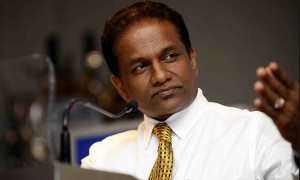 ICC president self-nominee reject Thilanga Sumathipala said that his vision for a new era in Sri Lanka cricket has finally come true after announcing an inter-provincial book cricket tournament which will kick off next month.
Speaking at a press briefing, the President of Sri Lanka Cricket said, "I have decided to scrap all formats of cricket that we have been playing domestically and move to book cricket. The domestic setup is a shambles and I have overseen this mess, which I am very proud of. Despite the lack of funds at SLC, I managed to squander several million rupees on a launch event only for the tournament to be shelved despite my suggestion that we include one bump catches to make it more exciting."
"But since the national team's form is temperamental, I decided to change things around and innovate the game in our country. The new book cricket format means we will save a lot of money by cutting down spending on cricket equipment, although we advise players to still wear ball guards and carry bookmarks. Anyone caught dog-earing their book will be given a two-match ban," he added.
In a related story, Dinesh Chandimal is up for the Man Booker Prize while Suranga Lakmal has been shortlisted for the Gratien.
GET ONE OF OUR T SHIRTS! – http://takas.lk/catalogsearch/result/?cat=&q=newscurry