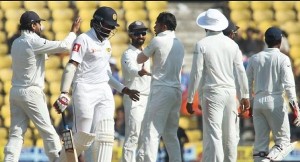 As a result of the prevailing inclement batting performance of the Sri Lankan team, the Disaster Management Centre has warned the public to stay away from the top and middle order as they are prone to collapsing.
A spokesperson for the department said, "While there is a high probability of mudslides occurring in certain areas of the country, we are not able to predict them with the same accuracy that we can forecast a batting collapse of the SL team, which happens almost every time they go to bat. The public must be careful of flying debris including middle stumps and bails. While the collapse is sudden, it is fairly short-lived."
"Anyone who witnesses a collapse has been asked to report it to the Disaster Centre located at the SLC headquarters in Maitland Crescent. However,  the President of Disasters, Thilanga Sumathipala, has said that his disastrous reign is unlikely to come to an end anytime soon," the spokesperson added.