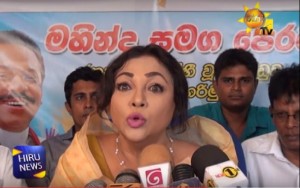 Popular actress and unpopular opposition MP Geetha Kumarasinghe has set the record for the birthing the most number of children after revealing that 20 million people attended the recently concluded Paadha Yatra, despite that being the total population of the country and that a maximum of one million people started off the procession.
Speaking at a press conference, Ms. Kumarasighe said "People don't believe that 20 million attended the rally and have questioned that figure as that is the total population of Sri Lanka. But I have to reveal that I actually gave birth to nineteen million kids during the course of the walk. It was a tough assignment but I decided that it was in the best interest of the procession and the only way to justify the figure I announced at the press conference."
"While I'm making up numbers, did you know that 3 billion people actually voted for Mahinda in the last election and that only two million voted for Maithree. I've also acted in ten thousand movies. Making up figures is fun. But in all seriousness, this Government has increased unemployment by 1046% as a result of its policies," she added.
"I learned how to manipulate figures from my colleagues while they were in power. And it's easy to hoodwink our population as the mass media never tries to correct misinformation that we spout."