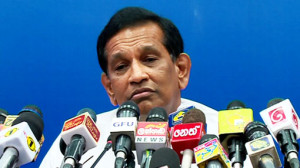 Sri Lankan Politicians have been basking in their recent win and celebrating a gold medal from the Institute of Public Relations, awarded for the Most Pointless Press Conferences to be ever held.
Cabinet Spokesperson and all-round buffoon, Rajitha Senaratne said, "Excuse me while I just wash the Pittu out of my mouth, unlike Minister Dayasiri Jayasekera. I am extremely pleased that we have won yet another award for our non-performance. It took a great deal of effort and co-ordination to make sure that we hold press conferences on a daily basis just to pretend we have something to say. It helps when news organisations, who are there only for the free food, are willing to just carry all the bullshit we spew under the guise of news to fill in allocated time slots, so it's a vicious circle."
"When we can't organise proper press conferences, we just make them up on the spot. Look at Ranjan – a few months ago he held the world's first mobile press conference when he got journalists to question him in front of a jeep he was trailing for a minor infringement, which has yet to be determined. Just the other day he managed not only to invite a journalist to his house for a press conference but also lambasted him in the process – yet another innovation in the PR field," he added.
A statement from the Institute said, "It was a close running in this category and the other front runner was Donald Trump. But in the end what trumped it for the SL politicians was that there is only one Donald making a fool of himself while for the Ministers it is a joint effort to produce substanceless and vapid output on a daily basis. It helps reduce the public IQ, to their level. "