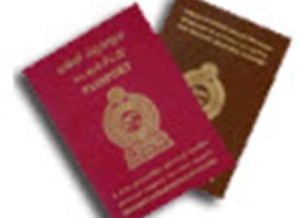 After a lapse of 5 years, the new government today opened up the Dual Citizenship application process ,  which had been previously suspended by the former government. And amongst the early applicants was that of Mrs Herowansa, who in a first for the process, applied to be a citizen of Sri Lanka and Sri Lanka.
Not content with one passport, the wife of the former cabinet minister said that she wanted to display how patriotic and idiotic she was by applying for a secondary Sri Lankan passport in a different name. 'Nothing says Sri Lankan more than owning 2 Sri Lankan passports' she said and added 'apart from having a Sri Lankan birth certificate'.
At a press conference later in the day she said 'I urge everyone to get another Sri Lankan passport to show how loyal they are to the country and in case they lose the first one. Also it proves patriotism as you can use one to go and one to come back. Only people leaving this country for good and abandoning the motherland are happy with one passport. They are traitors'.