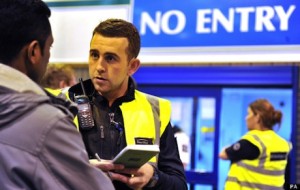 An Immigration Officer attached to the UK Border Force today caused a scene of major embarrassment at a UK airport when he acted in a very rude and patronizing manner against one of world's leading Supermarket shoppers. The legend in the field of shopping who has notched up over 14,000 Nextass Loyalty Points and second in the world to accrue over 200 points in one shop (after Don Mudiyansalage Brad Mandige), was left frustrated by his attempts to enter the UK and tweeted his experience to his followers.
In a series of Tweets he said that this is the first time he has been treated in such a manner in his 15 years' of experience travelling in to London and that the rest of the Border Patrol were indeed lovely. He went on to add that no matter whether you are a vegetarian, lactose intolerant, on a diet or have a sweet tooth, every well intentioned shopper deserves common courtesy. However vegans should be subject to more harsher questioning possibly even deported to Cargills.
The officer concerned issued statement saying 'I don't shop at Keells so I didn't recognise him but I regret my actions and as a form of punishment have been forced to watch T20 cricket'.