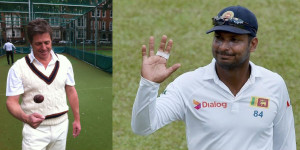 Sri Lanka Cricket's Selection Committee today announced that they have called up British actor Hugh Grant in to the national side to replace cricketing legend Kumar Sangakkara who today retired his accent from representing the country.
Sangakkara, who has one of the leading accents in the field of cricket, notched up several hundred minutes of conversation and also successfully kept talking to foreign players from behind the wicket on behalf of the country during his illustrious career.
The Selection Committee said that they had chosen Grant after an extremely competitive selection process with a number of leading accents including Benedict Cumberbatch, Ian Mckellen, Patrick Stewart and HRH Queen Elizabeth II in the shortlist. However they felt Grant to be the best candidate after evaluating his form of in Four Weddings and a Funeral. The Committee do have  concerns about the brevity of Grant's name when compared to the names of his future teammates, creating a lot of empty space on scoreboards and costing less to print his name on the team shirt.
A number of Sanga's teammates have been commenting on his retirement; Teammate and Bromance partner Mahela Jayawardene said 'I remember when he first acquired this great accent – during our schooling years we were invited to play in England and after going to the British Embassy to collect the visa, he came out speaking differently. I am privileged to have spoken with him in the middle of the pitch for several years and his is one of greatest accents this country has ever produced.'
Another of his colleagues said, "We couldn't understand a damn thing he said. But that didn't stop him. It only made the accent worse. Even when speaking in Sinhala he had this accent. When he said anything we just laughed and then went over to Mahela and asked him to translate. But nonetheless great bugger." Former cricketer and leading commentator Russel Arnold said "Game over for me. Have to start looking for another job".
Hugh Grant, speaking straight after discovering he had been selected said "Well….err…crickey! Who would have thought that eh? It…errr…..puts a bit of a bugger in my acting schedule. But…..crumbs…it's also jolly good news indeed. And to replace…errr.. Sanga…well blimey. It's going to be a tough job indeed, but I will give a right crack at it."
(Thank You Sanga)