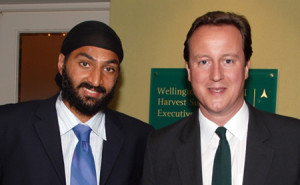 Taking a leaf out of Maithri's strategy to force diplomatic postings on retired cricketers, UK Prime Minister David Cameron has requested that Monty Panesar be immediately appointed as UK's High Commissioner in Sri Lanka. The former spinner known for his exuberant celebrations has been forced out of retirement to take up the posting which will see him representing the interests of multicultural Britain whose population as a whole is less pale than it used to be.
The media inquired as to the choice of Panesar from the Prime Minister  who said "When I went to Sri Lanka for the Heads of Commonwealth Meeting, the roads were very clean. The politics were less so. Prince Charles and I wondered around the country looking at what we used to own. And the people were very friendly. They looked like Monty so I thought best to send him. We tried sending Botham but despite walking the Beefy's Charity walk across island he could not talk the talk. Freddie was asked to leave after trying to buy the whole of Duty Free when entering the country."
In preparation for his posting to Sri Lanka, Monty is currently undergoing a cultural awareness programme to understand local etiquette including not showing up on time for meetings, how to do a 'ring-cut' when you run out of mobile phone credit, how not to drive on one lane and using the word 'machan' when you have forgotten someone's name.