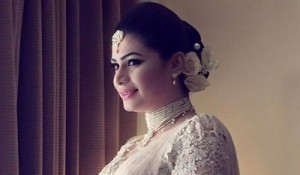 Westerner Provincial Councillor Hirunika Premachadra last evening announced that she successfully secured a nomination from the newly formed Wedding Party when her husband selected her to represent them at the next Sri Lanka General Election under the symbol of a two interlocked rings.
Dressed in white like most ministers, the Bride said she was extremely lucky to be selected, and thrilled to be the only girl to be chosen by her husband. "This is a victory for women. I hope this will lead to more women being selected to be Brides of other parties. Unfortunately there no more room for women in this particular party"
There was an awkward moment during the day's proceedings when President Sirisena, attending as a witness, interrupted the reading of the vows to clarify 'This is not about promises I made to the public earlier in the year right?'
If nominated to the Cabinet she has indicated that is interested in managing the domestic affairs portfolio.