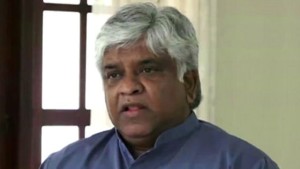 In a rare move that has raised eyebrows amongst followers of domestic politics and cricket enthusiasts, Minister of Ports and Cricket Legend Arjuna Ranatunga is rumoured to be planning on crossing over unaided.
The illustrious cricketer who famously used the assistance of a runner to walk out on his behalf in protest when Murali was accused of chucking, has indicated to party colleagues that he is confident of making the right call and judging the distance in order to complete the runaway by himself ahead of the upcoming elections.
While the World Cup winning captain has been navigating his current position with distinction at 4 knots per hour on the portly side, he is rumoured to be unhappy with certain team members and their families and engineering another walkout.
We spoke to Darrell whose hair raised at the news