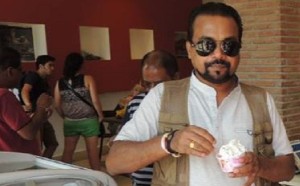 Listed as an example of 'Idiot' in the Oxford Dictionary, Wimal Weerawansa has forced the nation to put its stock of champagne on ice after news that the former MP has called off his hunger strike after just 9 days.
A statement issued by the former JVP parliamentarian said, "It is with regret that I wish to announce that I will be eating lobster thermidor and foie gras this evening for a subsided rate of just Rs 100 at the Parliament canteen as I have decided to end my hunger strike. While I did have a craving for food, the fact that I was starved of attention caused me more distress. While I thought there would be wall to wall coverage of my farce of a fast, it seems that most people chose to just ignore me. So I had to ensure that I developed the strength to speak again which meant stuffing my face with some lemon puff."
"Of course people that say that I could not handle the pressure but it wasn't the food that I needed because I was only really hungry for power, which is what I have always pined for. Before the Yahapaalanaya johnnies came in, we were feasting on power buffets. But now I all I have are some odd scraps," he added.
GET ONE OF OUR T SHIRTS! – http://takas.lk/catalogsearch/result/?cat=&q=newscurry