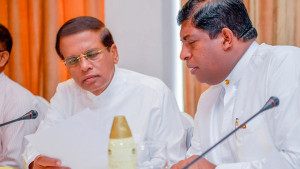 President Maithripala Sirisena said that he was forced into a reshuffle involving a swap of roles between Ravi Karunanayake and Mangala Samaraweera after the latter had overperformed his duties at the Ministry which needed to be reversed.
Addressing the press after the new appointments were made this morning, President Sirisena said, "We can't be allowed to perform well in this country as it is not our culture, and this is something we must preserve at all costs. A number of foreign secretaries from around the globe and members of the international community said what a good job Mr. Samaraweera was doing as Foreign Minister and I had to put a stop to that. I needed someone who could ensure the name of the country was tarnished and the island was brought into disrepute and there was only one man for the job."
"Unfortunately that person is now in the opposition and trying to make a comeback, but then I realised that we have someone already in the Cabinet, which is why I appointed Ravi Karunanayake. While the country has been generally divided, he was the one person who managed to unite the country by getting them to agree that he's not that good at his job, and I expect him to useless at this too" he added.