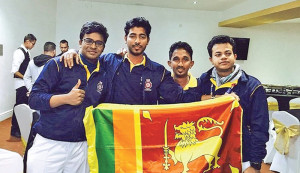 A group of professional funeral mourners have benefitted from hanging around funeral houses and playing carrom late into the night, having gone on to secure the World Carrom Championship held in the UK earlier this week.
A spokesman for the team said, "These guys have honed their skills by playing carom well into the night and on many occasions facilitated by the fact that people had funeral houses wanted to play. Sri Lanka has a long-standing tradition of playing the game while keeping vigil. However this year due to a reduced number of incidents the boys have been trying to figure how to put their experience to use as their demand at funeral houses decreased."
"The team decided to take part in the World Championship just to see how far they could go but it appears all the hard work paid off and they are thrilled to have clinched the title. A lot of games went well passed midnight and our boys benefitted from having the practice at funeral houses," he added.
The captain said, "It's definitely a thumbs up, because Thumbing is permitted."
(Congrats Guys, awesome achievement)