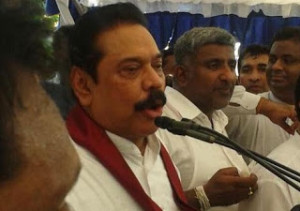 The former President yesterday declared that he is considering contesting the forthcoming elections under the Damro Brand as it was the only one that could guarantee him a seat.
Speaking at a hastily arranged press conference with several people in attendance due to Poya and the lack of anything else to do, Mahinda proclaimed 'On the 8th of January there was so much sadness across the country as rampant nepotism, corruption and a dictatorship came to an end. These are core values of a progressive country and must be upheld by me, my family and goons. People were so upset they were lighting firecrackers all across the country and sales of scarves fell dramatically'.
'As such I am in the process of finalising a deal to allow Damro to let me use their symbol for my upcoming campaign. They have a reputation of providing seats across the country' he added.
'I know what you think but my business title is not made up. Every company has one' said the Chairman of Damro outside their head office.